Chairman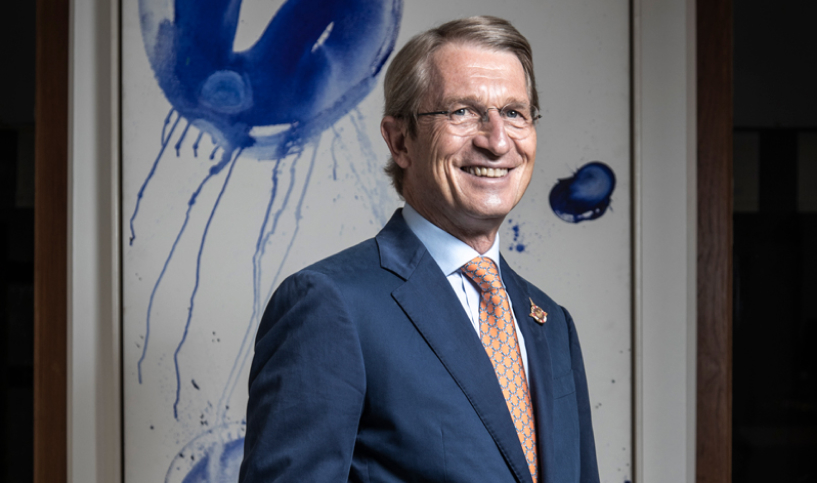 Dr. Harald Link
Harald Link is the third generation of the Link family. He is the chairman of B.Grimm, Thailand's oldest business institution, carrying a 142-year-old tradition of "doing business with compassion." After earning an MBA from St. Gallen University in Switzerland, he started working at B.Grimm in 1978 at the age of 23, learning the family's business from his uncle, Herbert Link, and his father, Dr. Gerhard Link. From 1981-1986, he sat in the company's Executive Committee and became Chief Executive in 1987.

Since 1988, under Harald's leadership, B.Grimm evolved, forming joint ventures with world leading corporations and building B.Grimm's own businesses in energy, building and industrial systems, healthcare, transportation, lifestyle, real estate, digital and capital partners. The company enjoys joint ventures with Babcock, Carl Zeiss, Carrier, Hamon, KSB, Siemens, Sumitomo Corp and a great number of Asian companies such as Amata Corporation, Bangkadi, CP Group, Sena Development and WHA Corp.

As a company that has flourished within Thailand for 142 years, B.Grimm is committed to giving back to the country in which it calls home. This spirit of social responsibility and community support began with the first generation of the Link family and continues to today with Harald remaining steadfast in his family's devotion and dedication to the Thai community.

Harald strongly believes in "doing business with compassion" and conducts his billion-dollar, multi-business corporation according to the Buddhism's four virtues of loving kindness, compassion, sympathetic joy and equanimity. Through these four virtues, he puts people's well-being first. For Harald, a major factor in cultivating and maintaining a legacy of success is attention and connection to humanity. He believes that behind every ethical and compassionate business is a love and commitment to people.

Harald shares his family's passion for philanthropy. He actively engages in various programmes and projects, both personal and via B.Grimm. Interests close to his heart are education, environment, sports, music, religion and arts.

One of the most successful education projects that Harald supported since inception is a science education project called "The Little Scientists' House." The project is based on the curriculum developed by Haus der kleinen Forscher Foundation, Germany, which aimed to instill a love of science learning in pre-school children (3 to 6 years old). Since the project launched in 2010 under the auspices of HRH Princess Maha Chakri Sirindhorn Foundation, "The Little Scientists' House" has taught in more than 22,000 kindergartens throughout Thailand.

For environment, Harald plays a leading role in supporting WWF-Thailand's ambitious "Save the Tigers" conservation programme in Thailand. Tigers are considered one of the top predators that maintain the balance of the ecosystem. When the top species are endangered, the ecosystem in which they live are endangered as well. There are only approximately 150 tigers remaining in the wild in Thailand. Strong actions are needed to increase the tiger population. At present, B.Grimm is funding this urgent endeavor. Harald firmly believes that Thailand still has a chance to save its majestic tigers; and with compassion, businesses can exist in harmony with nature and the community.

For music, Harald is the major supporter of classical music through the Royal Bangkok Symphony Orchestra (RBSO), now under the Royal Patronage of HRH Princess Sirivannavari Nariratana. Established in 1982, RBSO actively performs classical, operatic, musicals, popular, and Thai contemporary concerts. RBSO have successfully invited many internationally reputable soloists and orchestras to perform in Bangkok. Presently, as the chairman of the RBSO Foundation, Harald leads the foundation through its fourth decade with the mission to cultivate classical music for the younger generation, and to make classical music accessible to all.

Harald had a natural affinity for horses since he was a child. In Thailand, a place that he calls home, he brought back his passion and established the Thai Polo & Equestrian Club in Pattaya in 2003. Initially, the Club was just a natural ground where he can ride and share his interest with families and friends. As the Club grew over the years, so did Harald's desire and motivation to make full use of the Club's facilities to contribute to Thai society. In recent years, he organised polo and equestrian tournaments annually to raise funds for several charitable organizations. The Club is also fully invested in the local community by providing employment, education opportunities, and equine-assisted therapy to children with autism.

In his role as the chairman of the Thailand Equestrian Federation, Harald gives full financial support to the Thailand National Team riders -- providing horses and home ground for their training, as well as enabling their participation in international equestrian tournaments in Europe, with his goal of seeing them riding to the Olympics. Today, with its spacious size, beautiful landscape, and world-class facilities, the Club is a popular venue for international equestrian tournaments. Harald's proudest achievement came when the Thai Polo & Equestrian Club was selected by the International Federation for Equestrian Sports (FEI) to host the FEI Asian Championships, the first of its kind to take place in Asia, during December 1-8, 2019.

Harald Link married Princess Assunta von Liechtenstein in 1981. They have two children, Caroline and Felix Link. Both are working in B.Grimm with Caroline to be the successor for energy, and industrial and healthcare businesses and Felix for the real estate side.