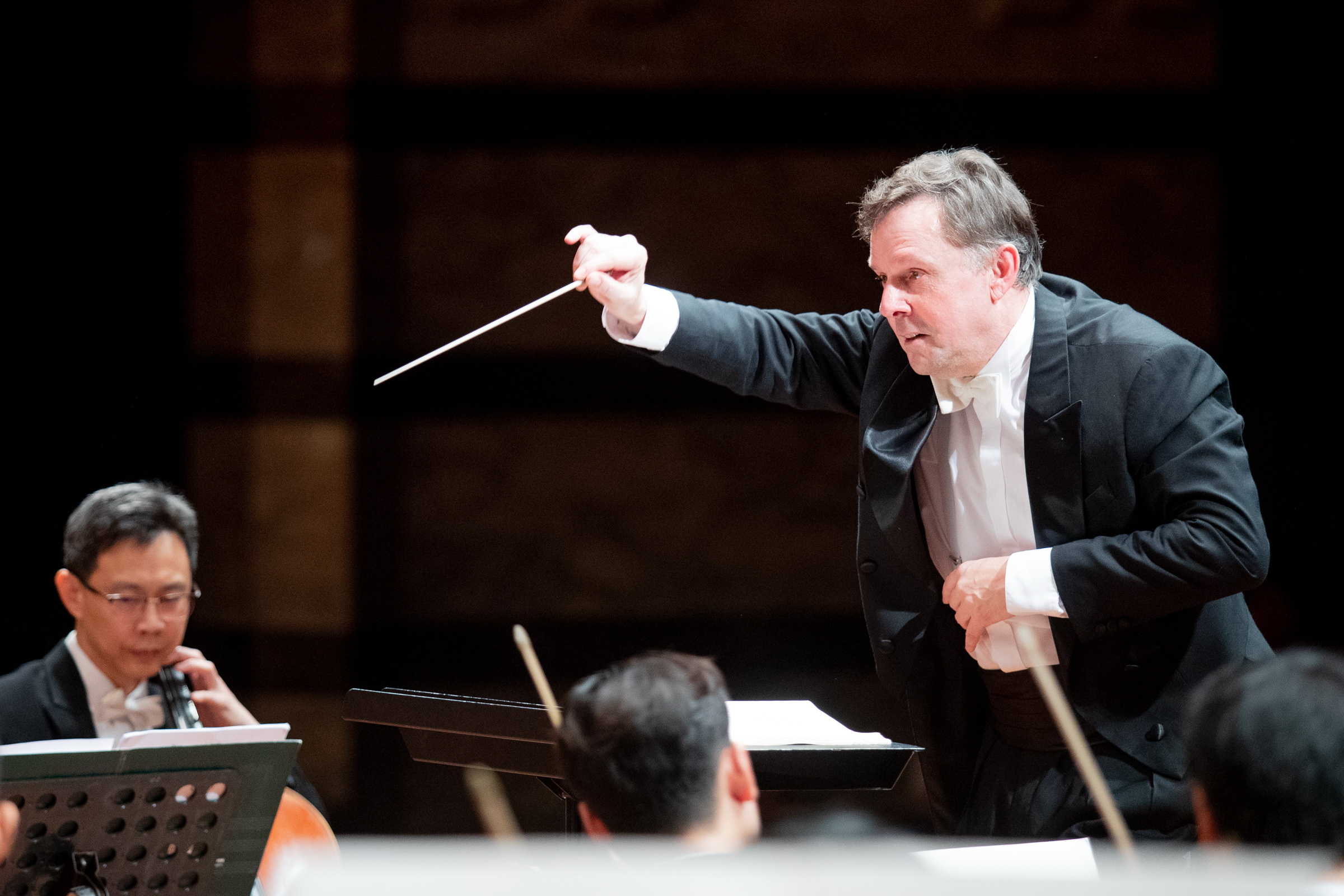 Mr. Michel Tilkin
Belgian conductor Michel Tilkin enjoys a busy career on the podium internationally, having developed lasting relationships with numerous eminent ensembles since the start of the new millennium. His interpretations are known for intensity of expression and masterly shaping of expansive symphonic structure. In response to a performance of Tchaikovsky's Symphony No. 5: "…the enlarged orchestra was clearly galvanized by Tilkin's passionate and highly committed temperament, resulting in many powerfully sustained build-ups and climaxes of often awe-inspiring, searing excitement..." (Bangkok Post, 2017)

In March 2018 he became the new Music Director of the Royal Bangkok Symphony Orchestra, Thailand's longest running professional ensemble. Since 2010 a regular guest conductor, his charismatic presence on the podium and positive relationship with the musicians resulted in this exciting new appointment. Profound performances of Schumann's Symphony No. 3 and Tchaikovsky's Symphony No. 4 resulted in an invitation to conduct the RBSO's '30th Anniversary Celebration Concert' in 2013. His stunning performance of Rachmaninov's Symphony No. 2 on that occasion is still remembered by the musical community, and in 2016 he conducted the orchestra in Tokyo Opera City Concert Hall at the prestigious 'Asia Orchestra Week.'

From 2013-2017 he was Chief Conductor of Thüringen Philharmonie. He has also conducted notable orchestras such as Rheinische Philharmonie, Nürnberger Symphoniker, SWR Rundfunkorchester, Philharmonie Zuid-Nederland, Athens State Orchestra, Novosibirsk State Orchestra, Israel Camerata, and Belgian National Orchestra.

Originally Principal Trombonist with the Rotterdam Philharmonic Orchestra, Tilkin has also been active as chamber musician and solo artist. However, inspired by the great Russian maestro Valery Gergiev, in 1998 Tilkin decided to focus entirely on conducting.

With the renowned Jeunesses Musicales World Youth Orchestra he served as Assistant Conductor to Kurt Masur and Zubin Mehta - including at the Verbier Festival in Switzerland. Principal Conductor of the JMWYO for a European tour of the opera Brundibar by Hans Krasa, he then directed a historically significant German tour which commemorated the Peace of Westphalia. Tilkin also gained the distinction of conducting the very first concert of the new millennium in Berlin's Konzerthaus, starting at precisely midnight as the new dawn began.

Tilkin has conducted many productions for Flemish Opera, including the world première of Achilleus by Wim Hendrickx. With the Brussels Philharmonic Orchestra he released the première CD of the opera Erotokritos and Areti by Greek composer Yannis Markopoulos, for Universal Records. For Channel Classics he has recorded Dvořák's Piano Concerto in its original version, with the Arnhem Philharmonic Orchestra and Paolo Giacometti.