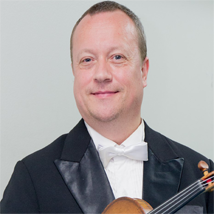 แดเนียล เจมส์ ฮัดสัน
English violinist, violist, musicologist, and educator Daniel James Hudson received his formative instrumental training on scholarship at the Royal Academy of Music in London during the 1980s. Eminent violin professors with whom he studied include the renowned Philharmonia Orchestra concertmaster Hugh Bean CBE; the influential pedagogue and author Simon Fischer; and the internationally admired virtuoso Alfredo Campoli. A keen academic interest in all fields of music – mainstream classical and beyond – was nurtured at the Universities of York and Surrey, where he also had the opportunity to develop pianoforte accompaniment as a secondary discipline.

Orchestras with which he has worked include London Philharmonic Orchestra, Royal Philharmonic Orchestra, the Philharmonia, English National Ballet, English Touring Opera, and Royal Oman Symphony Orchestra. In 1995 he was invited to join the Royal Bangkok Symphony Orchestra after auditioning for the then Music Director John Georgiadis - himself a highly regarded ex-concertmaster of the London Symphony Orchestra in the eras of Abbado and Previn. Hudson's fortunate connection with the RBSO continues to this day, now also serving on the faculty of violin/piano teachers at the orchestra's own Bangkok Symphony Music School. As an educator he has in addition played a pioneering outreach role in introducing structured violin pedagogy in the northeastern city of Khon Kaen, with his students receiving annual invitations to appear at ABRSM High Scorers' Concerts at the Bangkok Arts & Culture Centre.

Daniel James Hudson has been concertmaster for some three dozen locally based orchestras and groups in the United Kingdom. His professional life began as orchestral leader for British Youth Opera, touring nationally four of the great operas by Mozart. A later career highlight was a five-week sold-out residency at the Kennedy Centre in Washington D.C., where he was ensemble leader for the prestigious Almeida Theatre company's acclaimed production of Wedekind's 'Lulu' plays.